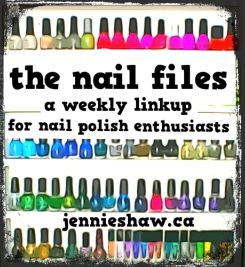 Finally! Back with The Nail Files. It has been so long. This year has been so overwhelming and flying by way too fast, I can't get anything done. I feel like all year I've worked worked worked and not accomplished anything. :p But at least some aspects are finally easing back into place - luckily the blog being one of them! (Although the extreme amount of posts I have to read of other blogs that I've gotten behind on may be the death of me. lol But that's coming along, slowly but surely.)
For now, though, I'll just enjoy my tiny victory and savor the return to The Nail Files! Especially now that I'm working for Jamberry, I anticipate having plenty to contribute!
Today I posted reviews of these two polishes from Blue-Eyed Girl Lacquer's Dr. Who inspired collection - It Got Away From Me, Yeah...
I had expected more from this one. The sparkle wasn't as noticeable and I couldn't even see the gold glitter. I was a bit sad because red polish with gold sparkles is my weakness. The texture was thick and thus a bit goopy. I think I need to invest in a thinner. (Any suggestions welcome!)
However, it's a flattering red, and has incredible dry time. So I'll definitely be using it for pedis a lot!
I was really impressed with this one. Applied well, lays smooth, dries fast, and is gorgeous! After several days to a week, the stars and butterflies start to lift, so having a good top coat is good to have.
I really like this one and can't wait to layer it over all sorts of colors. :)
What mani/pedis have you had lately? Come link up with us!
Have a fab day!
- Toria