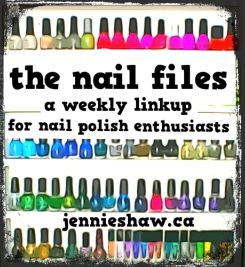 Okay, here is version 2! I played around with it more this time. I'm more satisfied with it now, although I do think looking at them side by side it is hard for me to choose which I prefer. :)
Products Used:
Salon Perfect - Sugar Cube
Glossy red acrylic paint
And here is my pedicure!

I wasn't sure how well it would turn out but I loved how it looked!
Products Used:
Blue-Eyed Girl Lacquer - You Just Want to Mate?!
Pure Ice - Black Out
My Beauty Spot - Clear Coat
I'm putting together another post that has all 3 years of this compared, with a look to see how much progress I've made! I'll try to have that up tomorrow! :)

How do you keep track of your nail progress?
Let me know!
Have a wonderful day!
- Toria